Snacks - an important part of our nutrition
Snacks eaten throughout the day, on the go or between meals are a staple in today's food landscape In our busy society, snacking has become more and more vital. During a busy workday, snacks can even act as substitutes for regular meals.
Tasty snacks are no longer enough
As snacks are increasingly popular, it is no longer enough for them to simply taste good. Consumers want their snacks to be healthy as well. The health benefits and nutritional value of snacks is becoming more and more important to customers. Coming out of a global pandemic, consumers are paying extra attention to their wellbeeing – and only a few things are as important to a healthy lifestyle as a balanced diet. Today's challenge for companies is to provide snacks that are healthy without sacrificing taste and texture. This can be a complicated task, especially when existing recipes need to be reformulated. However, if companies make the effort, it can be worthwhile.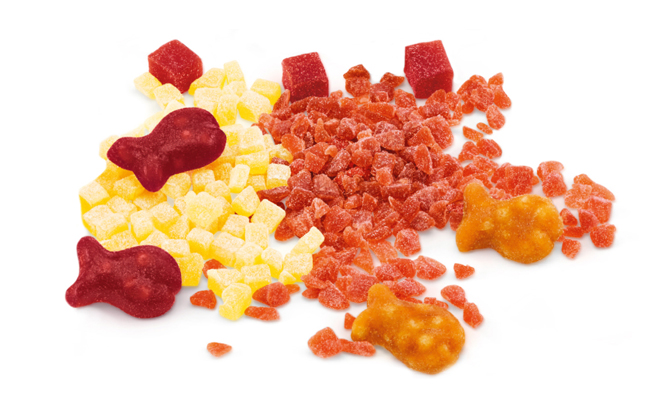 Fruit – a power ingredient
In order to create healthier snacks, it becomes important to reduce fat and sugar. Making this happen is difficult because products often rely on these ingredients to make them tasty. Introducing power ingredients like fruit and fiber can be beneficial. The key ingredient here: fruit. Fruits are rich in fiber, tasty and healthy as well! This natural ingredient is also rich in textures and can make snacking an unforgettable experience. The questions are: How can fruit be used in different types of snacks? Doesn't it get boring after a while to constantly munch on fruit? We at Paradise Fruits have been thinking long and hard on these questions and are happy to say that we have come to a great conclusion!
First of all, the sheer number of different fruit varieties is incredible. There is a wide range of flavors, colors and textures, so you practically never get bored snacking on fruit. Our product range reflects the great variety of different fruits, and we are always on the lookout for new favorites that we can process according to our customers' wishes.
Fruit products are convenient & ready-to-use
Fresh fruit spoils very quickly. And it's usually messy to eat – especially when you're on the go. Fortunately, we've found the best ways to extend the shelf life of fruit practically for years and make snacking on fruit so much easier. This is accomplished by the processes of IQF-freezing, freeze-drying and our special low-temperature concentration technology. IQF freezing involves freezing fruit individually at the peak of perfection. This results in delicious frozen fruit that retains its flavor, color and nutrients. Freezing not only works for fresh fruit, but also for sugared canned fruit like peach halves or pineapple slices, making freezing even more useful and versatile.
Freeze-drying refers to a process in which fresh fruits are frozen and then gently dehydrated. This way the molecule structure of the products is preserved, and they retain their taste and color as well as their valuable ingredients. This process is especially convenient if producers want to use fruit in snacks and baked products. The third technique is our ultra-fast low-temperature concentration technology: it transforms large volumes of fresh or frozen fruits, fruit juices or purees into fruit ingredients with low residual moisture as well as snack products.
Examples of fruity snacks
While the possibilities for using fruit in snacks are endless, we are happy to give you a few examples of tasty snacks that can be made healthier by using fruit.
The problem with fruit fillings in baked goods is moisture migration and the loss of flavor and nutritional value during the baking process. In order to eliminate these issues, our Solutions products are bake stable and retain 100% of their taste, nutrients and color. There are various types of fruity fillings in fun colors and shapes that help reduce added sugar in sweet recipes and give extra flavor to baked goods. Our freeze-dried products are also a perfect ingredient for various baked goods.
Chocolate holds a variety of snack options, despite its bad reputation for being unhealthy and lacking in vitamins and nutrients. Adding fruit to chocolate makes this snack healthier, tastier and even more fun. Freeze-dried fruits as well as highly concentrated fruit products on or in chocolate bars are not only visually appealing, but also provide valuable nutrients. In addition, chocolate-covered fruits are a tasty and underrated snack because they combine the smooth and creamy texture of chocolate with the fruity sweetness of fruit. Paradise Fruits offers in-house chocolate coating according to customer requirements.
Snack bars and cereals are already very healthy snacks because they are made of multigrain. Yet, they can taste bland and boring. While fruits add extra softness to these snacks, the different textures and delicious sweetness of fruits can improve the snack experience immensely. Whether in the form of whole fruit, fruit parts or fruity pastes, these snacks benefit from fruity ingredients.
Our commitment to making snacks tasty
The products we offer at Paradise Fruits can be smoothly integrated into our customers' recipes, but there is also the option of customizing our products to meet their individual needs. Regardless of the project, we strive to help our customers create delicious snacks that are healthy, competitive and – of course – fruity.